TABLE OF
CONTENTS
A documentary about the Canadian artist
DAVID McFARLANE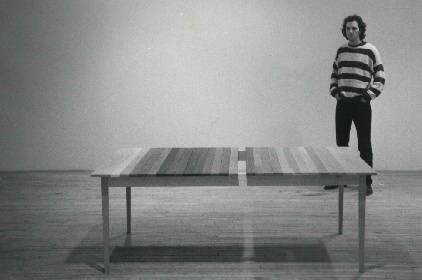 "The table can expand another 2 1/2 feet to accomodate more as I will gather more..."
What is the relationship between a table consisting of 26 different kinds of wood, a story about a dangerous encounter, and a flag made from human excrement?

Meet the Canadian artist David McFarlane at an exhibition in Montreal where he examines fundamental social issues related to the question above...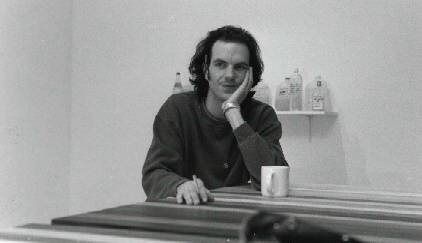 Crew
director, producer & editor
Gunnar Knutsen
director of photographer
Noel W. Barnett
sound recordist
Brian McFarlane

original music
Brian McFarlane


(he now records as bgm!)
song
"South of No North"
Adobe Walls
sound mix
Ian Rankin
Sound by delux, Toronto
titles
Gio Shanger Sampogna
negative cutter
Barbara Swift
lab
Geoff Bottomley
Ryerson Polytechnic University

Financial support
Norsk Kassettavgiftsfond
&
The Canadian Embassy (Norway)

Film Data
Documentary, 14 min., 16mm. 1:1,33, B/Wh, optical sound, mono, english dialogue, 1994-96
Also available on Beta SP and VHS (PAL & NTSC).

IT IS ALSO AVAILABLE IN THE ARCHIVES OF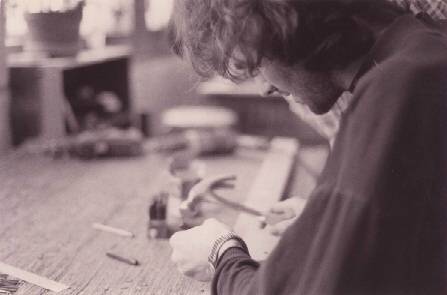 Award
Honorary Mention at the Minimalen Short Film Festival, Trondheim, Norway, March 1996.

Previous Festival Screenings
Peer Plexis Alternativ. Bergen Short Film Festival Norway (1998)
The Norwegian Short Film Festival Norway (1996)
Minimalen Short Film Festival Norway (1996)
Ryerson Film Fest Canada (1994)

From the shooting of Table of Contents
Montreal, Quebec, February 1994
(Left to right: Gunnar, David and Brian (with the sound stick))

Please visit:
David McFarlane´s website